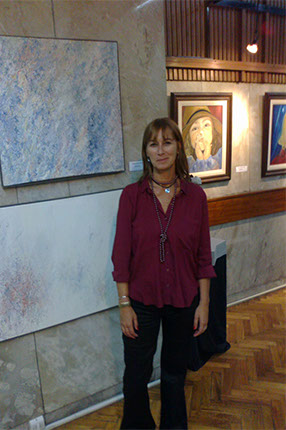 Arquitecta – Artista Plástica
Nació en Santa Fe- Argentina- 1962
Egresada FADU- Universidad Nacional del Litoral- Santa Fe
Estudio pintura en taller de José Alberto Marchi- Buenos Aires
Participo en cursos vinculados a la actividad desde 1983-
Participo en Foro Internacional de Jóvenes Arquitectos- UIA-Unión Internacional de Arquitectos-
Paris-1995-1996-1998- Francia
Prades- 1997- Francia
"Espacio Publico, Ciudad y Paisaje" Mención León de Venecia a la creatividad; "Patrimonio y Creación Urbana"; "Desarrollo Sustentable Valle Cerdeña- Capcir"; " Centralidad y Modernidad"-
Seleccionada para exponer –VI Bienal Internacional de Arquitectura y Urbanismo- Buenos Aires – 1995 – Imágenes de Tesis de grado- Área puerto Santa Fe.
Actualmente trabaja en su estudio privado.


Architecte – Plastic Artist.
Born in Santa Fe – Argentine- 1962
Became architect from Universidad Nacional del Litoral- Sta.Fe-
Studied painting in the atelier from Jose Alberto Marchi- Buenos Aires- Argentine-
Take part in Seminars , courses and topics from Architecture and Art since 1983.
Participant in Forum International for Young Architects – UIA-
Paris- 1995-1996-1998- France
Prades – 1997- France
"Espace Public, Ville et Paysage" Mention creativite Venice Lyon; "Heritage and Urban Creation";
" Heritage, Centrality and modernity"; "Sustainable Development of the Tet Valle de la Cerdaya- Capcir"-
Exhibition Images Thesis Port Area Santa Fe-
VI Bienal International Architecture and Urbanism- 1995- Buenos Aires – Argentine-
Take part in several exhibitions.
Currently work in her private studio.